Rockville Chiropractor Specializes in Manual Therapies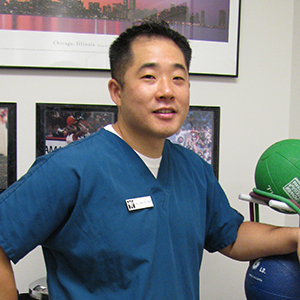 We are a unique facility that not only offers care for our patients that are in acute pain, but also the rehabilitation, the functional restoration, and maintenance of a wide spectrum of musculoskeletal problems. In addition to treating injuries of the spine, our clinic successfully rehabilitates whiplash injuries, sciatica and disc problems, chronic headaches, rotator cuff and shoulder injuries, carpal tunnel syndrome, tennis elbow, hip and knee injuries, foot and ankle problems, and chronic muscle or joint pain.
Whether it's a sports injury, a work-related injury, pre or postoperative rehabilitation, your condition will benefit from our care.
Long Lasting Solutions
At Progressive Spinal and Sports Rehabilitation, Dr. Park is dedicated to giving patients the longest lasting solutions to any injury or painful condition. He is able to do this by providing customized treatment programs and collaborating with other specialists when needed. Dr. Park works one on one with every patient, so you will never feel like you are just a number. He will teach you how to manage your condition independently, so you do not have to keep coming back for repeat visits. He uses an evidence-based, integrated approach that incorporates manual therapy, physical therapy, and chiropractic techniques to ensure a lifetime of good health. Contact us and schedule an appointment. You'll be glad you did!
Progressive Spinal and Sports Rehabilitation | Chiropractor in Rockville | (240) 499-5155