Physical Therapy in Rockville
Whether it's post-surgical physical therapy for a torn meniscus or rotator cuff repair that you need, you can be sure Dr. Park and his team will get you back to doing the things you enjoy most.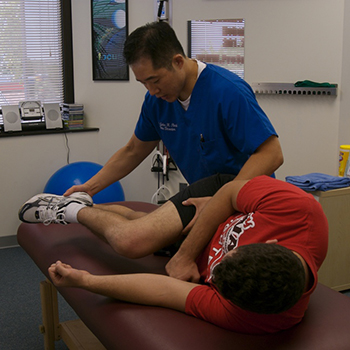 Reach Optimal Health
Physical therapy and rehabilitation are all about restoring balance to the body for optimal function. Our job is to find which muscles are weak or inhibited and get you on a program to strengthen those deficiencies. We also look at what structures are tight or overactive and teach you how to stretch them and improve flexibility. And of course, we address joint mechanics and look at how the joints in your body are moving. If something is fixated or "stuck" chiropractic manipulation and manual therapy is used to mobilize the restricted areas and optimize how movement occurs.
Dr. Park has been successfully treating patients with a combination of traditional chiropractic techniques blended with the physical therapy and manual therapy procedures ever since he started practicing in 1999.
Our Approach
Find what is weak and strength those deficiencies
Isolate the shortened and tight anatomical structures and effectively stretch those areas
Mobilize and restore movement to restricted joints
Once these three factors have been addressed, you can expect pain relief, restored physical balance, and improved function.
We'd love to meet you and answer your questions. Contact us today!
---
Progressive Spinal and Sports Rehabilitation | Rockville Physical Therapy | (240) 499-5155